"I love George Ohr. More freedom in his head then in just about anyone's.

Ohr was a 19th century ceramic futurist.  Looking at his work rubbing my fingers together, thinking about the feel of wet clay. his mind must have moved like clay moves when you throw it on a wheel or pinch it…it always seeks freedom…the potter seeks control…the dance is between the authority of the material and the will of the potter.   It can be a discussion or a debate.  A lot of talking."—Michael Brod
Brod's musings prompted your editor to ask him to say more on George Ohr, "mad potter of Biloxi," (who surely looked the part—see the photo at the bottom of this post). Ohr, himself, was more than willing to think out loud about his works and days: "I brood over [each pot] with the same tenderness a mortal child awakens in its parent."[1] A few of Ohr's numberless creations were exhibited in NYC last year at the Craig F. Starr gallery. These three were in that show. (You can find many more examples of Ohr's art pots here.)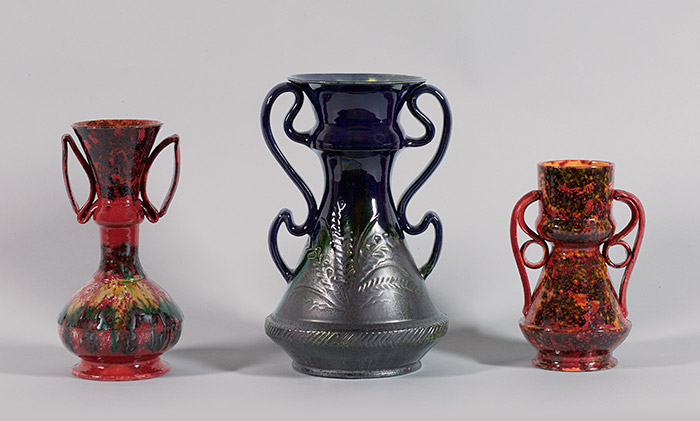 What follows is Michael Brod's poetic amplification of his first riffs on Ohr. B.D.
Ode to Ohr
Ohrwellian he was
Ohrdinating in his studio
Mesmerizing with mud
No failures he couldn't fix
The consummate craftsman
Plying his sensitivities through
His creed, "No two alike",
He outdid Qin Shi Huang"s
Terracotta army in numbers and originality.
Germanic to the bone
American through his eye
A marriage consummated
In clay produced ten thousand
Offspring sprung from his hands
At a dazzling pace
Each with amazing grace.
Orphaned from the Art World
Chained to the prison of language
The slur of Potter
Compromising the artist
Bonding him like a slave
To the mud he digs
To work in clay is
To work in defiance
Of the laws of physics,
Nature and science
Against the forces of gravity
Ohr's work prevailed unheralded…
Along comes de Waal with a new
Ten thousand strong
To preen in
Gagosian's salon
No footnote
Credits that sum
To the Ohrwellian potter
Sweating in the Biloxi sun.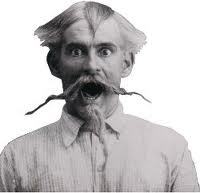 George Ohr, 1857-1918
Note
1 Ohr's line and other resonant quotes are cited in this short film commissioned by Mississippi's Ohr-O'Keefe museum.