Lineages of the Absolutist State
By Charles O'Brien
Perry Anderson's gassy, 19-page elegy for Alexander Cockburn is, of course, not worth reading; worse, I found it the entry point to the tour of a witless horizon. "With the posthumous publication of A Colossal Wreck, the triptych for which Alexander Cockburn will be remembered is complete," reads the first sentence. It seems unlikely... The "triptych" is a nice touch, though, very much in the tradition of Leonid Brezhnev's Trilogy, which gathered dust in Russian bookstores during the Soviet Union's last years, which Cockburn described as a Golden Age for the Soviet working class. Continue reading "Lineages of the Absolutist State"
Notes on Chilean Literature (Or Those Queer Birds Disturbing the Necrophilic Silence of the Barrio Alto)
By David Golding
On September 7th 1986, when "Gen. Augusto Pinochet ruled Chile with an iron fist" (it's like the beginning of a fairy tale, a fucked up fairy tale without a moral, or with a strange and inscrutable moral, a fairy tale in which the evil Prince of right-wing dictatorship is replaced by the true Prince of the Neoliberal State), Roger Cohen was in Valparaiso having "a fish lunch washed down with Sauvignon Blanc" (note that he wasn't having Allende's red wine and empanadas)... Continue reading "Notes on Chilean Literature (Or Those Queer Birds Disturbing the Necrophilic Silence of the Barrio Alto)"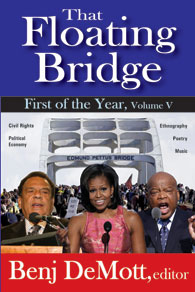 Get the FIRST volume, THAT
FLOATING BRIDGE, right here
Democracy Now
By Fredric Smoler
This Sunday the New York Times Book Review will publish Michael Kinsley's review of Glenn Greenwald's No Place To Hide. The review has been available on line since May 22nd, where it immediately provoked confidently scornful replies—"rebuttals" doesn't really capture the intellectual content of this genre—from a number of people, many of them journalists, along with a striking amount of vitriol. Nothing much new here, except that one of the first responders was Margaret Sullivan, the Times' Public Editor, who commented on Kinsley's review on May 27th, i.e. almost two weeks before the Book Review would publish Kinsley. Pretty remarkably, Sullivan strongly implied that the Times should not have published Kinsley... Continue reading "Democracy Now"
The Question of Taste: Bill Berkson
By Bill Berkson & Jarrett Earnest
I'm struck by the fact that if I go to SFMoMA or the Legion of Honor, either way, if you're dealing with contemporary, modern art or old masters, there just isn't any operative taste. We have this thing called "museum quality" art. The Rothko now at SFMoMA was six million dollars, it's the non-identical twin to the picture in Berkeley. Before it arrived, I asked a dealer friend, what about this Rothko we're getting? "Well it's a museum quality Rothko," he said. And I thought, "Museum quality—what is that?" It's like the FDA...If you go around the country and go to museums, their collections consist mainly of "examples." Examples are not a matter of taste. It's just a fucking "Rothko." Continue reading "The Question of Taste: Bill Berkson"
Mumblecrit
By Ben Kessler
"I don't care what any of these snobs say!" said my freshman-year Postmodern Lit instructor, not bothering to identify the snobs. "Titanic is a damn good movie, and 'My Heart Will Go On' makes me cry!"... Continue reading "Mumblecrit"
Rank Culture
By Lex Brown
My initial reaction to ArtRank was one of disgust—An every-day, 2k14 kind of disgust that also gets called forth when I see the ungodly short shorts of teenagers today, which are as discomfiting as they are fascinating when you think about the exact point at which an ass becomes a leg. It seems every generation finds there's always more cheek to show, and ArtRank reveals not only one of the big narratives in contemporary art, but also the reality of our economy, and how the relationship between the two gets totally jacked up (or should I say hiked up) with the trend metrics made available by the internet. Continue reading "Rank Culture"
An Opening of the Field
By Thomas Evans
Exploring the art and coteries of the artist Jess (1923–2004) and the poet Robert Duncan (1919–1988), An Opening of the Field celebrates the vibrant household of two extraordinary men who lived together as lovers and collaborators at the epicenter of the San Francisco Bay Area's glory years of artistic ferment. Continue reading "An Opening of the Field"
Love Generation: Virginia Admiral Remembers Robert Duncan
By Virginia Admiral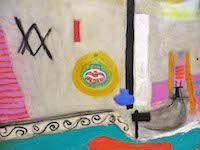 Detail from "The Red Table" (1944)
by Virginia Admiral (Crocker Art Museum)
I met Robert sometime in February 1938. I had noticed Robert, Mary and Lili Fabilli, and Cecily Kramer earlier having a wonderful time dancing into and out of the small record concerts on the Berkeley campus, laughing hysterically, Lili with sandals and a flower in her hair (she was the original Flower Child)...The atmosphere of the campus was heavily political. My friends were Trotskyites. The Berkeley Young People's Socialist League (YPSL) amounted to seven to ten persons that year and was a voice crying in the wilderness, for the campus was almost entirely Stalinist. The Young Communist League (YCL) had been instructed not to speak to the YPSL. The YCL was to eschew all political deviation including homosexuality, and YCL women were to wear high heels and silk stockings... Continue reading "Love Generation: Virginia Admiral Remembers Robert Duncan"
Star Time
By Carmelita Estrellita
poetry anthology/force-fed tome/ironic in case/you've got things a little too easy at home Continue reading "Star Time"

"The program is for
students who already have
a lot on their minds,
who mean to have much,
much more on their minds."
-Robert Hullot-Kentor, Chair
Women's Studies
By Alison Stone
Let us be cold/as we need to be./Suss the pretty prince/for what he is./Whip up storms and skating rinks./When our sisters stumble,/let us take their hands/and guide them into glide. Continue reading "Women's Studies"
"Family Properties" (& Buying the Farm)
By Benj DeMott
The NBA playoffs—from the high drama of the early series to divine low-downs of Charles Barkley—show what happens when African Americans get to compete on equal terms. But the sweetness of their play shouldn't be an excuse for the treacle of that State Farm ad set in the 1920s(?) where Chris Paul's proprietorial "twin" pitches an umbrella to rain-pure white businessmen in bowler hats. Continue reading ""Family Properties" (& Buying the Farm)"
After the Morning: Reflections on Amiri Baraka's Legacy
By Sam Abrams, Ammiel Alcalay, Asha Bandele, Julian Bond, Wesley Brown, Benj DeMott, Tom DeMott, Diane di Prima, Bongani Madondo, Richard Meltzer, Jeremy Pikser, Connor Tomas Reed, Aram Saroyan, Robert Farris Thompson & Richard Torres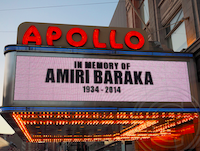 What follows are remembrances of Amiri Baraka by First writers and readers (new and old). While there's nothing official about this tribute, everyone who contributed hopes it might serve as a comfort and/or calmative to Baraka's wife Amina and his sons and daughters. Continue reading "After the Morning: Reflections on Amiri Baraka's Legacy"
Recent Entries