Secret Valentine
By Carmelita Estrellita
oh bitterest of valentines/ cancer sent me flowers/ I didn't know he was a friend of mine/ now he's with me at all hours Continue reading "Secret Valentine"
Living in Levine
By Benj DeMott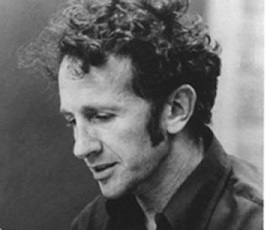 Philip Levine: 1928 - 2015.
My title nods to the name of a lovely chapter in Levine's memoir, The Bread of Time. "Living in Machado" looks back on Levine's sabbaticals with his family in Spain where he learned the language and first encountered the work of the great (impossible to translate?) poet Antonio Machado. I won't travel as widely here but take this as my trip through the land of Levine—a big country that includes poets he didn't know, pieces he didn't write, and a place not on any map. Continue reading "Living in Levine"
Two for Phil ("Sometimes We Tremble")
By Roxane Beth Johnson
Here's two stories we love to tell: Jesus slept on a boat during a storm; Pharaoh's army drowned. Death is a simple thing, he go from door to door... Continue reading "Two for Phil ("Sometimes We Tremble")"
Gentlemen of Principle, Priests of Presumption
By Benjamin DeMott
Our literary culture possesses, to this day, as England does not, a poetry of political incantation. Among our gifted younger writers are some who can image astounding solidarity with the outs, the bottom dogs, who can live into a snippet of near speech—a poor black father to son, at the zoo, pack it with furious force, becoming in the process priests of presumption, touching resonances of Whitman and Blake. Continue reading "Gentlemen of Principle, Priests of Presumption"
Who Ain't a Slave?
By David Golding
It's not enough for a writer to have no owner and no conscience, but it's a good start. It's not enough because when he or she emerges from his or her isolation and melancholia, from the pure futility of the inland empire of liberty, there's still the literary market to worry about and family dinners with collaborationist in-laws. Continue reading "Who Ain't a Slave?"
Assimilation
By Alison Stone
People who speak Spanish all have outside jobs, my daughter announces as the Mow 'n Blow crew descend from a truck to ravish our lawn. I read her a book about dark children dancing, playing drums with wrinkled elders, eating fried plantains. Bored, she grabs Dr. Seuss. Continue reading "Assimilation"
Hotlips
By Bob Ingram
I learned so much from George. I learned to travel light. I learned at first hand the Digger credo of "stay high, keep moving, and give all of yourself away" although I've always had trouble with the last part. And I learned the arcane language of the streets, perfect and alive. Continue reading "Hotlips"
10th and Bainbridge Blues
By Bob Levin
I take much of [Wendell] Berry to heart. I agree that man must recognize his commonality with others. I agree that the drive for acquisition is a planetary-abusing madness. But I have my doubts about his solution. Maybe it's because my grandfather, as a teenager, fled his family's plot in Alliance, New Jersey, for the Babylon of South Philadelphia; but I feel Berry left unanswered the old musical question, "How You Gonna Keep 'Em Down on the Farm After They've Seen 10th & Bainbridge?" Continue reading "10th and Bainbridge Blues"
Chicago Breakdown
By Nick Salvatore
It is important to remember [Thomas] Geoghegan's deep commitment over many years to the American labor movement and progressive causes in light of the tone and structure of his most recent book, Only One Thing Can Save Us. For as the title suggests, a deep despair suffuses the text. Continue reading "Chicago Breakdown"
A Woman of No Rank
By Casey Hayden
Casey Hayden and a buddy back in the day.
Thanks for the inquiry about the movie Selma. I used to avoid all media about the movement. The stuff never rang true. Then I realized these treatments were just takes on an imagined past; they're not about my reality...I saw the movie yesterday. My favorite part was the old black and white film, in which the funk and poverty appeared, a burst of truth inside the Hollywood gloss. Continue reading "A Woman of No Rank"
The Resistance to American Sniper
By Fredric Smoler
What too few (if any) of the critics remark on is what I find most striking about American Sniper: its protagonist's unprecedented prowess in war has no effect on the outcome of the war he is fighting. The film severs the link between epic skill at arms and both personal and collective outcomes as thoroughly as any of the First World War literature does... Continue reading "The Resistance to American Sniper"
Selma vs. LBJ
By Alec Harrington
In 1991, Oliver Stone slandered Lyndon Johnson in his film JFK, accusing Johnson of complicity in the assassination of President Kennedy. A number of historians and political figures have argued that Ava DuVernay's new movie Selma defames LBJ as reluctant to send Congress a voting rights bill and as opposed to the Selma voting rights campaign. Selma is, indeed, unfair to Lyndon Johnson, but criticizing Selma is more complicated than criticizing JFK... Continue reading "Selma vs. LBJ"
Selma to Timbuktu
By Benj DeMott
Selma traduces LBJ (see above), but what's worse is its take on Martin Luther King's deliberations in the days after the police riot on Pettus Bridge terminated the first major Civil Rights march in Selma. Continue reading "Selma to Timbuktu"
Mr. Turner & Mr. Leigh
By Karen Hornick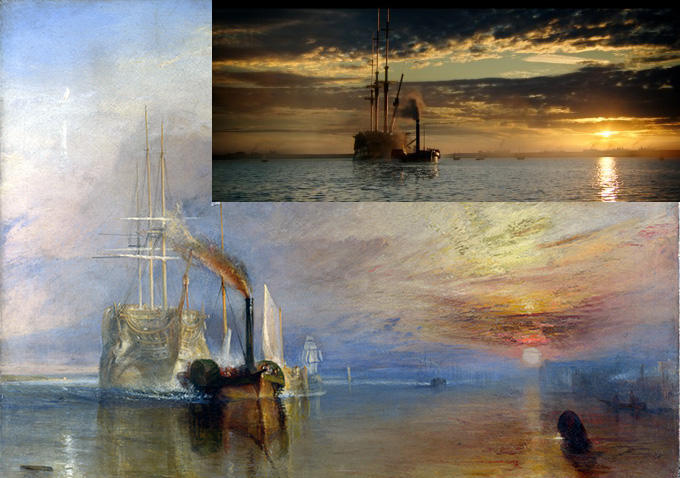 One of my suppositions here is that Mr. Turner is probably as close to an autobiography as Leigh will create... Continue reading "Mr. Turner & Mr. Leigh"
Mindless Pleasures
By Ben Kessler
Anderson's perspective in Inherent Vice is his own, not Pynchon's, and totally consistent with the rest of his work. His status in Hollywood makes sense, as he is, in a way, the emblematic popular filmmaker of the post-cinema period. Continue reading "Mindless Pleasures"
The Eternal Engine
By P.J. Podesta
The greatest virtue of Snowpiercer, Bong Joon-ho's dystopian action film, may be its oddity. At first the movie seems a straightforward sci-fi tale of rebellion against oppressive elites—in this incarnation: aboard a megatrain racing perpetually across the frozen world in the wake of a global warming mitigation experiment gone wrong. Continue reading "The Eternal Engine"
Emergency Rooms and Cutting Rooms: What's Wrong with The Fighter
By Milo George
This piece from First's archives punctuates the movie-related posts above. Author Milo George grasps that even half-decent Hollywood movies based on actual events often amount to crimes against reality. Continue reading "Emergency Rooms and Cutting Rooms: What's Wrong with The Fighter"
Fattening Frogs for Snakes
By Charles O'Brien
Jacobin wasted no time posting a comment on this week's killings in Paris. 'On Charlie Hebdo' was written by a Richard Seymour, a regular Jacobin contributor, here reprinted from his blog, which is nothing less than Lenin's Tomb. Mr. Seymour is further identified as the author of The Liberal Defence of Murder; and according to Amazon.com, he is also the author of a book-long posthumous excoriation of Christopher Hitchens. Here's the opening sentence: 'Many journalists at the offices of Charlie Hebdo have been murdered by bampots brandishing what appear to be machine guns at close range.' And yet, Mr. Seymour seems to make a living with his pen. That 'at close range' is intriguing. The point, you'd guess, is that these people were shot at close range, an evocative detail. If only he'd said that. Continue reading "Fattening Frogs for Snakes"
Who Is Charlie?
By David Golding
I'm going to begin with an olive branch: not all of Sunday's "Unity March" in Paris was a proto-fascist omen... Continue reading "Who Is Charlie?"
Endangered Species
By Scott Spencer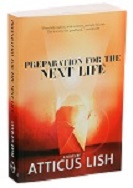 It's Christmas Eve and it has been raining all day in a kind of incessant Blade Runner post-apocalyptic way: a muddy Christmas! Gasoline is suddenly well under three bucks a gallon so it's hello greenhouse and goodbye ozone. Hunting season upstate and my dog has found a bag of guts a neighbor has left outside after butchering his doe. Yet the main thing about today, beyond the appalling weather, my rancid mutt, my worries for the environment, and the anniversary of the birth of the Infant Jesus is that I finished reading a great novel and I am surging with energy and feeling the aesthetic thrill of having experienced something original and important. Continue reading "Endangered Species"
Strangers in the Land (and Humanism in the Arena)
By Benj DeMott
"Scripture tells us we shall not oppress a stranger, for we know the heart of a stranger. We were strangers once, too."...Barack Obama's vision of a more empathetic America seemed beamish if you read Darren Wilson's testimony about why he had to kill the "demon" Michael Brown or watched video of police taking down Eric Garner (then mulling around him afterwards like he was a beast of no nation). The retaliatory assassination of the two cops (and family men) last Saturday in Brooklyn wasn't a blow to empire so much as a blow to empathy itself. Those head-shots went to the heart of the country. Continue reading "Strangers in the Land (and Humanism in the Arena)"
Obama's Executive Action
By Eugene Goodheart
David Brooks agrees with the substance of Obama's executive action on immigration, but believes that he has transgressed the Constitution in the process...When it is pointed out that Obama's action has its precedents in the actions of his predecessors, Republicans as well as Democrats, Brooks responds by noting the scale of the action, 5 million rather than 1.5 million under George H.W. Bush. He does not explain how this makes Obama's action, but not Bush's, unconstitutional. Continue reading "Obama's Executive Action"
Mirror
By Alison Stone
I am white, I can feed silence. Continue reading "Mirror"
Buzzfeed
By Benj DeMott
Bill McKibben's Oil and Honey is a Jeremiad about Global Warming that's also a charm offensive. The author's faith in the appeal of his teacherly Yankee persona seems almost as strong as his certitude rising levels of atmospheric carbon will have a devastating impact on the climate. Continue reading "Buzzfeed"
Media Narratives and Their Unreliable Narrators
By Eugene Goodheart
The unreliable narrator is a notable feature of the modern novel. The sophisticated reader is expected to pick up clues (planted by the novelist as distinguished from the narrator) in order to correct whatever false impressions he or she receives from the narration. The novelist forgoes the privilege of omniscient narration to awaken the reader from the torpor of passivity, encouraging intelligent resistance to what the narrative voice is saying about the world it is representing. In the world of politics, we speak of the media narrative of our political life. The narrators (and there are many) are called pundits. Their reading or listening audience are generally uneducated in the practice of distinguishing between the unreliable, who are legion, and the reliable narrators, who are few. Continue reading "Media Narratives and Their Unreliable Narrators"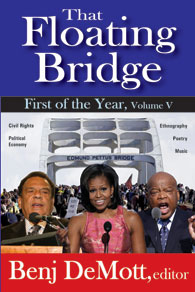 Get the FIRST volume, THAT
FLOATING BRIDGE, right here
Confessions of Ben Rhodes, Speechwriter & Deputy National Security Advisor
By David Golding
Sure, I'll yuck it up with the press about my novel, Oasis of Love, but the truth is if it wasn't as good as Jonathan Franzen it was at least no worse than Jonathan Safran Foer, that cocksucker, vegetarian, limp-wrist, he's never saved hundreds of Yazidis on a hill, he's never bombed the shit out of ISIS, he'll never write a Nobel Prize acceptance speech (not at this rate), he'll never know how to strike the right balance between humanism and war... Continue reading "Confessions of Ben Rhodes, Speechwriter & Deputy National Security Advisor"
Uncool World
By Lex Brown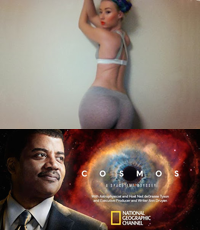 Race today.
Now is the strangest time in American history to be a black person. Never before was it so ambiguously defined. It's not like someone is telling me "You are 3/5 of a human." To which I could say "Uhhh, nah." Most of the time, no one comments on my blackness. But I experienced a deep sorrow and terror looking at pictures of military tanks and the ongoing unrest in St. Louis. Then I remember my skin color is a permanent indicator of social inequities whose resolution has gone down slow for centuries, with all the confusion that can entail. Having access to a legacy of cool is one of the few obvious upsides about being black in America. But as social and cultural institutions slowly accept the wide-ranging modalities of blackness, it becomes increasingly complex to understand what constitutes a "black experience," and how the idea of black cool plays into that. Continue reading "Uncool World"

"The program is for
students who already have
a lot on their minds,
who mean to have much,
much more on their minds."
-Robert Hullot-Kentor, Chair
IMMA LET YOU FINISH
By Ben Kessler
"Shake It Off," director Mark Romanek's recent clip for Taylor Swift, depicts bad new trends in beautiful old ways. It works the same way as the best '80s-'90s music videos—using semiotics to express up-to-the-minute changes in pop culture, producing the sort of imagery commentators and marketers now glibly call "iconic." Continue reading "IMMA LET YOU FINISH"
After the Morning: Reflections on Amiri Baraka's Legacy
By Sam Abrams, Ammiel Alcalay, Asha Bandele, Julian Bond, Wesley Brown, Benj DeMott, Tom DeMott, Diane di Prima, Bongani Madondo, Richard Meltzer, Jeremy Pikser, Connor Tomas Reed, Aram Saroyan, Robert Farris Thompson & Richard Torres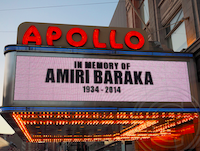 What follows are remembrances of Amiri Baraka by First writers and readers (new and old). While there's nothing official about this tribute, everyone who contributed hopes it might serve as a comfort and/or calmative to Baraka's wife Amina and his sons and daughters. Continue reading "After the Morning: Reflections on Amiri Baraka's Legacy"
Recent Entries