Q & A
By George Scialabba & Fredric Smoler
What follows is an exchange between George Scialabba, essayist and editor of The Baffler, and longtime First of the Month contributor, Fredric Smoler. The subject of their debate (which was sparked by Smoler's article "Democracy Now.") is the controversy surrounding Michael Kinsley's Times review of Glenn Greenwald's No Place to Hide: Edward Snowden, the NSA, and the U.S. Surveillance State. Continue reading "Q & A"
The Atrocity
By Uri Avnery
Bombs are raining on Gaza and rockets on Southern Israel, people are dying and homes are being destroyed. But I can hardly hear the sirens which warn of rockets coming towards Tel Aviv. I cannot take my mind off the awful thing that happened in Jerusalem...If a gang of neo-Nazis had kidnapped a 16-year old boy in a London Jewish neighborhood in the dark of the night, driven him to Hyde Park, beaten him up, poured gasoline into his mouth, doused him all over and set him on fire—what would have happened? Continue reading "The Atrocity"
Arab Soccer in the Diaspora
By David Golding
In a qualifying match against Brazil for the 1990 World Cup, Chile was on the verge of elimination when the goalkeeper Roberto Rojas cut himself with a razor and writhed on the ground next to a firework that had been thrown from the stands. What happened after that resembled a Zionist or neocon dreamscape: angry protestations, a bloodied body ceremoniously hauled away in a mock martyr's cortege, and a subsequent humiliation of the supposed victim. Video evidence showed that the wound was self-inflicted and FIFA banned Chile from competition in the next World Cup ... Continue reading "Arab Soccer in the Diaspora"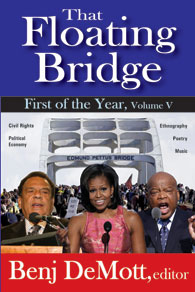 Get the FIRST volume, THAT
FLOATING BRIDGE, right here
Roger & Me
By Adele Levin
[Federer] was simply beautiful to watch, the precision and balance, the upper body absolutely still for the second before and after he uncoiled a shot. The weight I felt on him as he approached the court had evaporated in play. His eyes, at moment of ball contact, were striking. They were not the Agassi laser-like, terrified expression of one who had been force fed balls in his crib and highchair, but had the soft insistent focus of a man with a gentler upbringing. Continue reading "Roger & Me"
Wonders Come to Pass
By Sam Abrams
in 1856, Walt Whitman predicted/ the coming of a race of fierce and athletic girls Continue reading "Wonders Come to Pass"
Wait Till Last Year
By Bob Liss
Cynics about the NBA may be on the run. First there was Durant's moving Mother's Day speech in accepting the regular-season MVP trophy, followed by the collective brilliance of San Antonio's team-first triumph, and now LeBron's return home. Is it beamish to think LeBron picked up on the examples of local heroes like Durant and Popovich? He certainly seems to have amped up their moral momentum. Continue reading "Wait Till Last Year"
Double Happiness: Al Green & Zinedine Zidane
By Benj DeMott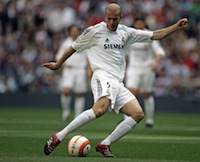 Beau travail.
I doubt it's only synchronicity that makes me feel Zidane's instinct for felicity has something in common with young Al Green's. Both performers mount mortal threats to cultural hegemony of super-heroes. They don't give off Olympian vibes. Far from wannabe immortals, they come on like vulnerable Prometheans. And the records of their attempts to get lit in front of humankind are marked by a here and gone sense of possibility: "Magic is very close to nothing at all." Continue reading "Double Happiness: Al Green & Zinedine Zidane"
Doing the Math
By Lex Brown
Relationships are like math tests for me. And I think for my adolescence and the first half of my 20s, I was trying to do a kind of math where 3+3 equaled 33 and not 6. Continue reading "Doing the Math"
1 + 1
By Carmelita Estrellita
I was wide open/outside my frame/when the whole world burst into/my latest flame Continue reading "1 + 1"

"The program is for
students who already have
a lot on their minds,
who mean to have much,
much more on their minds."
-Robert Hullot-Kentor, Chair
Existential Bugsquash
By Ben Kessler
Tom and Sasha, the romantically linked protagonists of Benjamin Kunkel's play Buzz, share a loft apartment (the play's sole setting) in a borderline-sketchy neighborhood of an unidentified city. Arriving home, they drop their coats, revealing only unmentionables underneath. Skivvies and scanties are pretty much all they and the other characters wear throughout the play. This is never remarked upon. Continue reading "Existential Bugsquash"
Gentleman in Distress
By Bob Levin
Clothes, to my present stage of enlightenment, seem a matter of art. Each morning, pieced together from socks to cap, I set out into my day, a six-foot-three collage, a portable installation of uncertain duration. When we dress, as when we paint, compose or scribble, we have the opportunity to cull our past, compress it with our present, and move an audience through the resulting vision. Continue reading "Gentleman in Distress"
Field Notes From a Lagging Indicator
By William Neil
I apologize now for using the phrase "medical Gulag." That is not the best description. Yet my mounting waiting room experience of the beaten, bent people who are being shepherded through a system with high technological capabilities and very little humanity, still leaves me with the sense that I am in a vast "refugee" flow... Continue reading "Field Notes From a Lagging Indicator"
After the Morning: Reflections on Amiri Baraka's Legacy
By Sam Abrams, Ammiel Alcalay, Asha Bandele, Julian Bond, Wesley Brown, Benj DeMott, Tom DeMott, Diane di Prima, Bongani Madondo, Richard Meltzer, Jeremy Pikser, Connor Tomas Reed, Aram Saroyan, Robert Farris Thompson & Richard Torres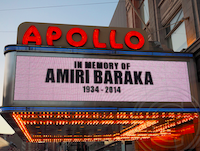 What follows are remembrances of Amiri Baraka by First writers and readers (new and old). While there's nothing official about this tribute, everyone who contributed hopes it might serve as a comfort and/or calmative to Baraka's wife Amina and his sons and daughters. Continue reading "After the Morning: Reflections on Amiri Baraka's Legacy"
Double-Truths
By Eugene Goodheart
I have no desire to defend the policies of the Netanyahu government toward the Palestinians. However, in focusing exclusively on Israel's behavior in blockading Gaza or on its failure to restrain expanding settlements or on its military actions, one loses sight of the egregious behavior of Hamas in betraying the interests of its own people... Continue reading "Double-Truths"
Reality Check
By Fredric Smoler
At our editor's request, I write in response to Eugene Goodheart's essays Hamas's Self-Destructive Leadership and What Israel Must and Must Not Do. I share what I take to be two of Mr. Goodheart's premises: that both Israelis and Palestinians have the right to national self-determination, and that combatants are obliged to observe the laws of war...What follows are only a few reservations about some of Eugene Goodheart's observations, although I should state in advance that two of the many things I admire about his writing are on display in both pieces: his avoidance of both the toxic pleasure of indignation and the comforting simplicities of a party line. Continue reading "Reality Check"
Tight Connections to My Heart
By David Golding
When I listen to critics of Hamas (and in the largest sense, Hamas needs not only to be criticized but defeated) (I'm not talking about Netanyahu but the so-called moderates who take time out of their presumably busy days to worry about Hamas' strategy...), I wonder what these people were saying in the seventies and eighties when Israel, like other despotic regimes in the Middle East at the time, gave its full support to the Muslim Brotherhood as a bulwark against Palestinian/Arab leftism, Continue reading "Tight Connections to My Heart"
Women and Childen First
By Bob Levin
Recent events...led me to recall an evening in the spring of 1968 when my roommate responded to a report on the evening news of protestors decrying the killing of women and children in Vietnam by saying, "Of course, we're killing women and children. That's how you win wars. Kill the women and children." He was not even stoned when he told off Walter Cronkite. Continue reading "Women and Childen First"
Recent Entries