Tales From Behind the Black Curtain
By Armond White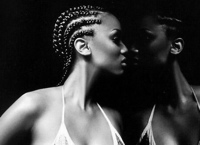 Now that hiphop culture has become the lingua franca of international media and business, it ironically keeps a class of Black Americans, especially youth, in isolation. That's how hiphop preserves it source--the engine of its innovation and perpetuation and commerciality. This conclusion is unavoidable after perusing educational statistics or watching many of the current Dirty South rap acts--Cassidy, Trick Daddy, Lil Jon and the Eastside Boys--whose language and behavior are a throwback to the socially-deprived manner and habits of black folks before the civil rights era. Continue reading "Tales From Behind the Black Curtain"
Back in the Day
By Lorenzo Thomas
When we were boys/ We called each other "Man" /With a long n/ Pronounced as if a promise Continue reading "Back in the Day"
Bad Faith
By Charles O'Brien
Start with Katha Pollitt. In the April 18 issue of The Nation, she unsurprisingly holds forth (unsurprisingly) on the controversy surrounding Theresa Schindler Schiavo. She comes down, of course, on the side of pulling the tube (or as she nicely says, "Schiavo's feeding tube was withdrawn"). There's no real argument offered, but she makes it clear that she's not happy with what she sees on the other side... Continue reading "Bad Faith"
Among the Believers
By Tom Smucker
[Iris DeMent] sings like her life depends on it, the Okie Aretha, with a desperation we usually attribute to black gospel. Continue reading "Among the Believers"
Recent Entries