Film director Abderrahmane Sissako, best known for Timbuktu, his film about the Islamist occupation of that historic city, spoke about his life and work in a dialogue with film scholar Michael Cramer at the French Consulate in New York City last week. His comments on the vicious killjoys who meant to humiliate Africans in Timbuktu by forbidding music, sports, and irreverence have taken on a new resonance in the wake of the terror attacks in Paris.  But Sissako's presence would be bracing at any time.  Click on his picture below to see/hear video of the event at the French Consulate.  Be aware it runs on empty for a couple minutes before you begin to hear crowd noise. The conversation starts about 1o minutes in. (And before you go there, you might want to check this memorable scene from Timbuktu, which was also shown about an hour into the discourse at the Consulate.)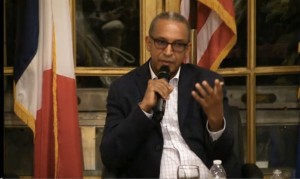 Sissako noted he hoped Timbuktu would uphold the humanism of those in that city "who resisted silently":  "Those who hid to sing, or listened to the radio under the blanket, or were playing soccer in their minds."  He averred he lacked such quiet courage, but his modest, yet undeniable acts of imagination make one doubt his self-assessment. What seems most likely is that Sissako's characters are true to their director's beautiful core.  You'll catch a glimpse of it, if you watch the conversation above.
Thanks to Judith Walker, Mathieu Fournet and Cultural Services of the French Embassy for enabling First to embed their video (and to Oliver Conant for steering your editor to the event last week). B.D.