Buzzfeed
By Benj DeMott
Bill McKibben's Oil and Honey is a Jeremiad about Global Warming that's also a charm offensive. The author's faith in the appeal of his teacherly Yankee persona seems almost as strong as his certitude rising levels of atmospheric carbon will have a devastating impact on the climate. Continue reading "Buzzfeed"
A Green Army Takes on Big Oil
By Lou Dubose
What follows is a small classic of reportage on the struggle against oil and gas companies who are trashing Louisiana's wetlands and spawning toxic sinkholes in places like Bayou Corne. Journalist Lou Dubose doesn't rely on rhetoric; he's a reporter. Hip to self-delusive pieties, he lives to expose deviousness of faux-boyish pols like Governor Bobby Jindal. But Dubose isn't a cynic. His article even hints at possibilities of local heroism, offering a snappy portrait of Russel Honoré—ex-Army general who's encouraging a "green army" to resist the poison going on in Louisiana... Continue reading "A Green Army Takes on Big Oil"
Media Narratives and Their Unreliable Narrators
By Eugene Goodheart
The unreliable narrator is a notable feature of the modern novel. The sophisticated reader is expected to pick up clues (planted by the novelist as distinguished from the narrator) in order to correct whatever false impressions he or she receives from the narration. The novelist forgoes the privilege of omniscient narration to awaken the reader from the torpor of passivity, encouraging intelligent resistance to what the narrative voice is saying about the world it is representing. In the world of politics, we speak of the media narrative of our political life. The narrators (and there are many) are called pundits. Their reading or listening audience are generally uneducated in the practice of distinguishing between the unreliable, who are legion, and the reliable narrators, who are few. Continue reading "Media Narratives and Their Unreliable Narrators"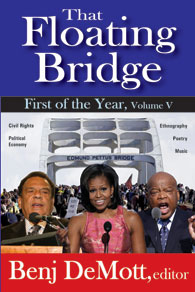 Get the FIRST volume, THAT
FLOATING BRIDGE, right here
Confessions of Ben Rhodes, Speechwriter & Deputy National Security Advisor
By David Golding
Sure, I'll yuck it up with the press about my novel, Oasis of Love, but the truth is if it wasn't as good as Jonathan Franzen it was at least no worse than Jonathan Safran Foer, that cocksucker, vegetarian, limp-wrist, he's never saved hundreds of Yazidis on a hill, he's never bombed the shit out of ISIS, he'll never write a Nobel Prize acceptance speech (not at this rate), he'll never know how to strike the right balance between humanism and war... Continue reading "Confessions of Ben Rhodes, Speechwriter & Deputy National Security Advisor"
Reeva Steenkamp
By Alison Stone
Cameras adore him—that chiseled face, all/ angle and shadow/bright with tears. He sobs/about waking from nightmares/won't look at the picture/of what used to be my head. Continue reading "Reeva Steenkamp"
IMMA LET YOU FINISH
By Ben Kessler
"Shake It Off," director Mark Romanek's recent clip for Taylor Swift, depicts bad new trends in beautiful old ways. It works the same way as the best '80s-'90s music videos—using semiotics to express up-to-the-minute changes in pop culture, producing the sort of imagery commentators and marketers now glibly call "iconic." Continue reading "IMMA LET YOU FINISH"
Uncool World
By Lex Brown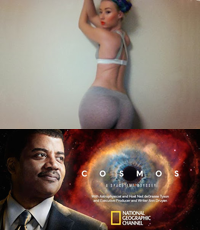 Race today.
Now is the strangest time in American history to be a black person. Never before was it so ambiguously defined. It's not like someone is telling me "You are 3/5 of a human." To which I could say "Uhhh, nah." Most of the time, no one comments on my blackness. But I experienced a deep sorrow and terror looking at pictures of military tanks and the ongoing unrest in St. Louis. Then I remember my skin color is a permanent indicator of social inequities whose resolution has gone down slow for centuries, with all the confusion that can entail. Having access to a legacy of cool is one of the few obvious upsides about being black in America. But as social and cultural institutions slowly accept the wide-ranging modalities of blackness, it becomes increasingly complex to understand what constitutes a "black experience," and how the idea of black cool plays into that. Continue reading "Uncool World"
James Brown (Stay on the Scene)
By Amiri Baraka, Chuck D, Anne Danielsen, John Leland, W.T. Lhamon, Michael Lydon, Charles O'Brien, Robert Farris Thompson, Richard Torres, Casey Wasserman, & Mel Watkins
Get On Up, the James Brown bio-pic, has moved your editor to re-up on First's 2007 tribute to JB...Two of the songs featured in the movie—"Sex Machine" and "Night Train"—sparked comments by Charles O'Brien in his contribution to this tribute. Six or seven years on, O'Brien's noticings feel definitive. His line on JB's aesthetic—"In performance, James Brown poured sweat. His music, no: it could be icy in its perfection"—has a new resonance in this moment when folks are wondering wh'appen to Afro-American canons of cool... Continue reading "James Brown (Stay on the Scene)"

"The program is for
students who already have
a lot on their minds,
who mean to have much,
much more on their minds."
-Robert Hullot-Kentor, Chair
L.C. Cooke: Truth & Time
By Peter Guralnick
It's not often you get to congratulate someone on the release of an album that's been held up for fifty years. But that is the case with 81-year-old L.C. Cooke's Complete SAR Recordings (plus three). Originally scheduled to come out in 1964, it was initially postponed—and then, with Sam's death, shelved—until its release just a week or two ago. Continue reading "L.C. Cooke: Truth & Time"
After the Morning: Reflections on Amiri Baraka's Legacy
By Sam Abrams, Ammiel Alcalay, Asha Bandele, Julian Bond, Wesley Brown, Benj DeMott, Tom DeMott, Diane di Prima, Bongani Madondo, Richard Meltzer, Jeremy Pikser, Connor Tomas Reed, Aram Saroyan, Robert Farris Thompson & Richard Torres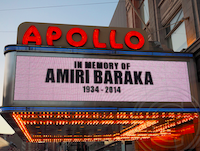 What follows are remembrances of Amiri Baraka by First writers and readers (new and old). While there's nothing official about this tribute, everyone who contributed hopes it might serve as a comfort and/or calmative to Baraka's wife Amina and his sons and daughters. Continue reading "After the Morning: Reflections on Amiri Baraka's Legacy"
Recent Entries